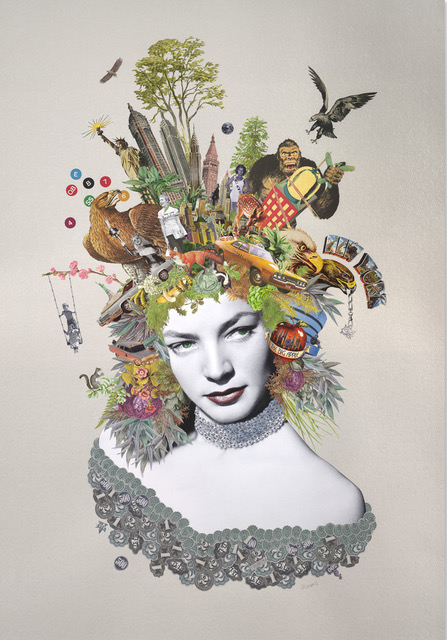 Brooke (SOLD)
Original signed mixed media hand cut collage
112cm x 82cm x 5cm
Framed
Original collage on paper featuring Lauren Bacall who was born in the Bronx, grew up in Brooklyn and died in Manhattan, this entire piece is an homage to not only Ms Bacall but also New York. The collar is made from original dollar bills and the animals are species you will find in Central Park.The letters above the eagle are the names of subway lines from a 1970's map and sitting inside the headers is a 1970's yellow taxi.
There's also an original image of Jean Seaberg wearing the NY Herald Tribune top in the French film Breathless, Mae West as Lady Liberty from Belle of the Nineties where she plays a burlesque queen and from one of Maria's favourite films is King Kong.
Adding to the pop-art design is John Lennon sitting on the Guggenheim and an Eagle holding a banana in homage to Andy Warhol.

www.liberty-gallery.com
sold out